The fan-girl in me is getting restless. Two books I've been all excited to read for months and months now finally release TOMORROW!!!!!
So don't expect to hear from me for the next few days because I'll be all busy reading: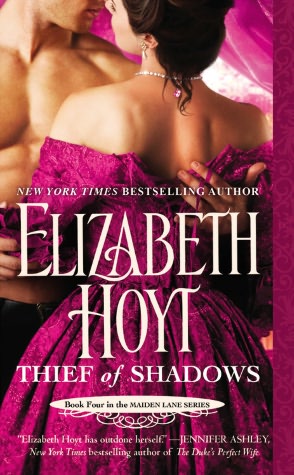 THIEF OF SHADOWS
by Elizabeth Hoyt
Steamy Historical Romance
Bk 4 in the Maiden Lane Series
Blurb:
A MASKED MAN . . .
Winter Makepeace lives a double life. By day he's the stoic headmaster of a home for foundling children. But the night brings out a darker side of Winter. As the moon rises, so does the Ghost of St. Giles-protector, judge, fugitive. When the Ghost, beaten and wounded, is rescued by a beautiful aristocrat, Winter has no idea that his two worlds are about to collide. A DANGEROUS WOMAN . . .
Lady Isabel Beckinhall enjoys nothing more than a challenge. Yet when she's asked to tutor the Home's dour manager in the ways of society-flirtation, double-entendres, and scandalous liaisons-Isabel can't help wondering why his eyes seem so familiar-and his lips so tempting.
A PASSION NEITHER COULD DENY
During the day Isabel and Winter engage in a battle of wills. At night their passions are revealed . . . But when little girls start disappearing from St. Giles, Winter must avenge them. For that he might have to sacrifice everything-the Home, Isabel . . . and his life.
Link to the awesome excerpt: HERE
AND
Steamy Paranormal Romance
Bk 1 in the Angels of the Dark series
Spin off of the Lords of the Underworld series
Blurb:
Leader of the most powerful army in the heavens, Zacharel has been deemed nearly too dangerous, too ruthless—and if he isn't careful, he'll lose his wings. But this warrior with a heart of ice will not be deterred from his missions at any cost…until a vulnerable human tempts him with a carnal pleasure he's never known before.
Accused of a crime she did not commit, Annabelle Miller has spent four years in an institution for the criminally insane. Demons track her every move, and their king will stop at nothing to have her. Zacharel is her only hope for survival, but is the brutal angel with a touch as hot as hell her salvation—or her ultimate damnation?
Link to the longest excerpt I could find: HERE
Now the only question is...which story do I read first??